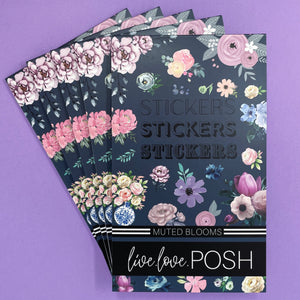 "OOPS" MUTED BLOOMS STICKER BOOK
Regular price
$15.00
$0.00
Unit price
per
The Muted Blooms sticker book features a gorgeous collection of muted, pastel, and neutral floral stickers! This book also includes coordinating colorful boxes and checklists, as well as everyday planner words! 
30 sheets - 15 designs (2 pages each)
Printed on matte white sticker paper 
Dimensions: 6 x 10
Designs painted and created by multiple artists
"OOPS BOOK" - $15.00 **May include minor blemishes - please read description.**
Our "OOPS BOOKS" were set aside when we first received this batch of books, so they are not sorted by damages. Your "oops book" may have one of the following OOPS below. 
Bent corner only
Minor blemishes / ink smudge on 2-3 pages

2-3 very minor blurry pages
Possibly no damaged stickers all
**Most oops pages, if any, still have perfectly good stickers on them 
---